The Lençois-Capão valley crossing, a trek into the historical heartland of the National Park, flanked by the great Morrão mountain, the crystalline monolith which dominates the region

The Fumaça Waterfall from Capão, with a guarantee to arrive there without any other visitors

The Riachinho Waterfall, the true pleasure of swimming and relaxation after the Fumaça trek

The Capão Valley with accommodation in the village of Caete-Açu, an enchanting, artistic community and a snapshot of bohemian Brazil
Day 1
Trekking Lençois – Capão
6-7 hours walk
Climb: 600m
This trek follows the legendary trail used in the 19th century by convoys of "tropeiros" with their caravans and mule trains which led to the expansion of Lençois. The search for diamonds produced stone canals and "tocas/caves" where people sheltered from pumas as well as storms. The environment changes constantly from the humid forest to the turbulent Ribeirão river which flows at the foot of the mighty Morrão, guardian of Chapada's buried wealth… A journey on foot into the most impressive part of the Chapada we have encountered thus far, we arrive in the Capão Valley at the end of the day (altitude 1000m). Picnic during the day; car on arrival to take you to your pousada in the valley and an overnight stay at Caeté-Açu.
Day 2
Fumaça + Riachinho Waterfalls
4 hour walk
Climb: 300m
Return to Lençois at end of day
A single day trek to one of the most remarkable sites in the Chapada Diamantina. This beautiful walk on the high plains allows you to explore the rich local flora, appreciate the tree ferns, orchids and insect-eating plants before finally reaching the magnificent canyon of Fumaça, one of the most majestic landscapes in the world. The rock face with its 400m precipice protects natural woodland where edible palm trees predominate. We picnic next to this spectacular vista. Arriving from nearby Capão means we will be among the first to experience this panoramic view, which attracts visitors from the whole region. At the end of the afternoon we stop at Riachinho for a well-deserved post-trek dip in the waterfall. Evening is free for you to enjoy one of the many restaurants of the village. Return to Lençois.
Kit: a small backpack (20 L) will be enough for your personal belongings and a picnic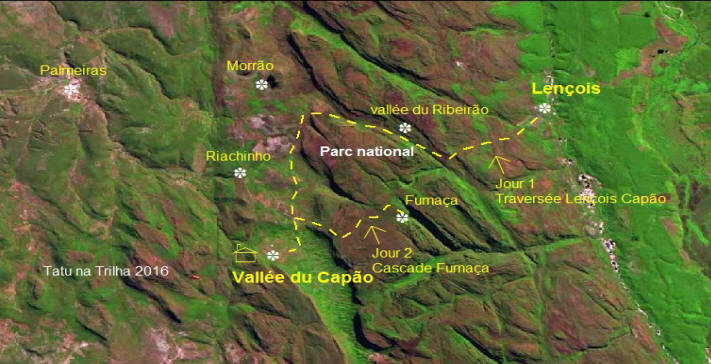 Crossing the valley from Lençois to Capão
2 days / 1 night
Price includes: English speaking guide, internal transportation, picnic lunch on both days, accident insurance, 1 night in Capão and return to Lençois by shared taxi + bus.